You can easily email subscribe to our site by following these simple steps.
Locate the "Email Subscription" option on the right hand side of our webpage, as shown below.
Type your email address into the box, and then click the "Subscribe" button.
What will then happen is that the following "Confirm" email will be sent to your inbox: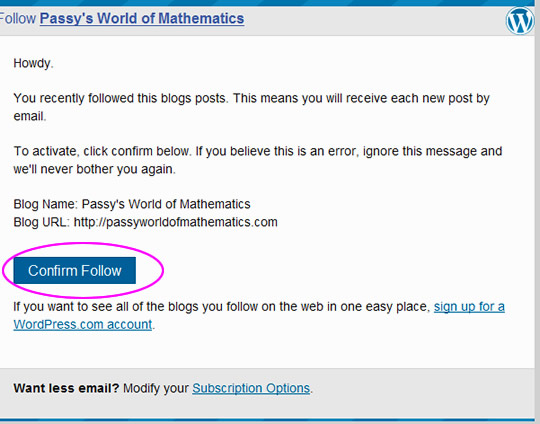 Simply Click the "Confirm Follow" button in the email to activate your subscription.
Once activated, what will happen next is the following:
Each time we post a new lesson onto our site, you will receive an email in your inbox which looks like this.
This email will contain a brief description of the new lesson, including a URL clickable link to the full webpage.
In the email, simply click on the blue "Read more of this post", and this will take you to the relevant webpage on our site.
Subscribing will save you lots of time by eliminating the need to keep coming to our blog and manually checking for updates.
It will also ensure you never miss important additions to our site.
If you get too busy, or go away on holidays, you can always catch up on what has been happening on our website by checking your email when you are ready.
We only update on average every two days, so there will not be many emails arriving that could clog up your Inbox.
Your email address is only used by WordPress to automatically email these updates, and your address is not supplied to any other parties. This means you can rest assured that subscribing will not lead to spam in your inbox.
At the bottom of each email you receive, there will always be an "Unsubscribe" link. This means you can easily opt out of the email subscription at any time, should your information needs change.
A further benefit of becoming a Subscriber is that we often offer free PowerPoints and PDFs from selected lessons to our subscribers.
Keep an eye out for the "Free Gift to Subscribers" message at the end of individual mathematics lessons that we post to our site.
Why not take up the option of a free subscription right now.
Go to the subscribe area on the right hand sidebar, fill in your email address and then click the "Subscribe" button.
Enjoy,
Passy